During Superbowl LII, on February 5, 2018, E-Trade ran a commercial that depicted elderly life guards, fire fighters and disc jockeys' struggling on the job and singing, "I'm 85 and I want to go home" to the tune of Harry Belafonte's "Banana Boat." The ad correctly noted that over one third of Americans aren't saving any money for retirement.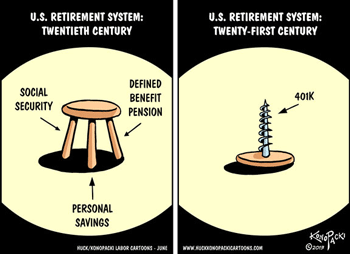 Roberta Gordon is a case in point. In an interview with The Atlantic, she stated that she never thought that she would still be alive at age 76 and, if she were, she didn't think that she would still be working. Now, she spends every Saturday at a grocery store and hands out samples for which she is paid $50 a day. She states that she needs the money. Throughout her life, Gordon worked dozens of odd jobs - as a house cleaner, a home health aide, a telemarketer, a librarian, a fund raiser. Often, however, she didn't have steady job with an employer that paid into Social Security and she doesn't receive a pension. Gordon states that she earns $915 a month through Social Security and through Supplemental Security Income, or SSI, a program for low-income seniors. Her rent is $1,040 a month and she's been forced to take on credit-card debt to cover the gap, and to pay for utilities, food, and other essentials. She often goes to a church food bank for supplies.
Ms. Gordon plight is typical of many Americans who have struggled throughout their lives to make ends meet, but E-Trade's invitation to invest with it is no solution to their travail.
From 1940 to 1960, the number of American workers in the private sector by traditional pension plans increased from 3.7 million to 19 million, or to nearly 30 percent of the labor force, according to the Employee Benefit Research Institute, or EBRI, and by 1975, 103,346 plans covered 40 million people. By the early 1970s, many of those retired workers in the United States who were the beneficiaries of traditional pension plans were able to enjoy a comfortable retirement for themselves and their spouses in contrast to the impoverished experiences of previous generations of retirees. Their pensions were supplemented by Social Security benefits that were enacted in the New Deal, and were greatly augmented by the medical coverage provided by Medicare which was enacted as part of President Lyndon Johnson's Great Society legislation.
By 2014, only 15% of retired workers in the private sector were enrolled in defined benefit plans. By contrast, many of the defined contribution plans that the Employee Retirement Income Security Act of 1974 [ERISA} permitted employers to create provide retirees with benefits are based on the amount and investment performance of contributions made by the employee and/or employer over a number of years. Many of those401K plans make minimal contributions to their employees and opt to pay benefits in a lump sum rather than as a lifetime pension.
The key event that precipitated a clamor for pension reform occurred in 1963 when the pension plan of the South Bend, Indiana-based car manufacturer Studebaker Corporation collapsed because of the company's bankruptcy. That event led in a 10-year Congressional effort to enact federal legislation to regulate pension plans. That effort - which was largely shaped by the lobbying efforts of banks and money managers - culminated in the passage of , ERISA. ERISA, amended several times since, ostensibly requires companies to adequately fund their pension plans and mandates that workers vest their pension benefits after a minimum number of years.
Ostensibly, ERISA was enacted to create minimum national standards for pension plans in the private sector. At the time it was enacted, a majority of employees were enrolled in traditional pension plans - aka defined benefit plans. Under those plans, many of which were joint union-employer pension plans, the trustees and administrators were held to a fiduciary duty to exercise prudent judgment to protect the assets invested on behalf of the covered employees.
At the behest of the financial industry, ERISA permitted the creation of defined contribution plans - individual retirement plans - e.g. 401Ks, etc. Such plans are ultimately controlled by plan administrators and asset managers whom ERISA conveniently exempted from any fiduciary duty to act in the best interests of the employees whose assets they managed. As a result of ERISA, a majority of American companies abandoned traditional pension plans during the past five plus decades and opted to create defined contribution plans, most of which significantly reduced the employers' financial responsibilities to contribute to their employees retirement plans.
Subsequent legislation amended ERISA and increased the responsibilities of Employee Benefits Security Administration ( EBSA), including the creation of the Pension Benefit Guaranty Corp. In 2009, that agency guaranteed payment of basic pension benefits earned by 33.6 million workers and retirees participating in about 27,650 single-employer pension plans, according to the EBRI. And in 2010, the agency was paying benefits to 1.3 million workers from 4,140 terminated plans.
The overall effect of ERISA has been an unmitigated disaster for ordinary employees and their families. Historically, long-term employees in the United States who retired after 30 or 40 years at a company received pensions with a guaranteed lifetime income stream. By contrast, those who own 401(k)s and individual retirement accounts - defined contribution plans - are burdened by two impossible-to-control risks: stock market volatility and uncertainty about their own longevity.
As the 2018 E-Trade television commercial correctly noted, about one-third of Americans really don't have anything saved for retirement, according to a 2016 survey by the finance website GoBankingRates. Other studies, such has one produced by the Economic Policy Institute, a left-leaning think-tank, have documented similar results. Prior to ERISA employer-sponsored pension plans, combined with Social Security benefits and, more recently, defined contribution plans, had truly turned retirement into the "golden years" for millions of
workers. So until the past decade, workers didn't put much thought into saving for retirement, much less worrying about it.
Since the passage of ERISA, corporate America has opting out of defined-benefit pensions for decades, and many experts agree that is a major cause of our retirement security crisis Jerry Gazelle, in an article for Workforce reported that, as of June 30, 2012, only 30 percent of Fortune 100 companies still offered a defined benefit plan to new salaried, a figure that was down from 33 percent at the end of 2011, 37 percent in 2010 and 43 percent in 2009. Gazelle noted that, as recently as 1998, defined benefit plans were the norm among the nation's argest employers, at a time when 90 percent of those Fortune 100 companies offered traditional pension plans to new salaried employees.
By 2017, the future retirement benefits of employees held in union pension plans were at also at risk. One financial analyst described as it as an "emerging financial crisis among multi employer pension plans in America. These plans are a subset of private sector defined benefit pensions covering 10 million workers and retirees. Most critical are the projected bankruptcies of the Teamsters Central States and the United Mineworkers of America plans, making front page news for the last several months. These plans and many others were undermined by two financial market crashes between 2000 and 2009, corporate bankruptcies, de-regulation, and over-regulation."
Whether even those few, long-term, unionized employees who remain in traditional defined benefit plans will enjoy then pensions for which they worked throughout their lives
remains an open question. Increasing corporate debt and a lack of pension oversight have exacerbated the problem.
Tops Super Market chain is one such sad example. In March, 2018, as reported by The New York Times, the chain was cutting prices even though it had filed for bankruptcy the previous month. In March, 2018, the parent company of the Southern stores, Winn-Dixie and Bi-Lo, announced that it too would file for Chapter 11 protection by the end of that month, and would close 94 stores.
The private equity firm Lone Star distributed $980 million in dividends from Winn-Dixie's parent company since 2011, according to Moody's Investors Service. Most of the payments were made by taking out debt on the chain, leaving less money to invest in stores. Marsh Supermarkets, an Indianapolis regional grocer that had also been backed by private equity, laid off more than 1,500 workers and required a federal takeover of its pension plan in 2017.
Amid the intense competition, the number of supermarkets around the country increased from 2010 to 2015, but the number of supermarket operators declined slightly. The collapse of many retail supermarket chains implicates the fate of thousands of cashiers, cake decorators and meat cutters, many of whom belong to labor unions and are owed pensions when they retire. Tops, for example, employs more than 12,000 unionized employees at about 160 stores in New York, Pennsylvania and Vermont.
The international food giant Ahold acquired Tops in 2001. The company was sold to Morgan Stanley's private equity team six years later. Under the firm's ownership, Tops loaded up on debt and paid out roughly $300 million in dividends to its investors, according to Moody's. Even though Morgan Stanley no longer owns the company, Tops never overcame the debt burden. And like other unionized supermarket chains, Tops has had to deal with steep pension expenses.
When it filed for bankruptcy, Tops said it expected to operate "as normal'' throughout the bankruptcy, but union officials are bracing for closings. "I have never seen a bankruptcy that doesn't lead to closing stores," said Frank DeRiso, president of U.F.C.W. Local 1, which represents Tops workers in New York.
These changes have exacted a toll on unions. Membership in United Food and Commercial Workers, the largest grocery union, decreased by more than 9 percent between 2002 and 2016 to about 1.2 7million members, according to the Labor Department. "The private equity owners try to drain every last ounce of blood from these companies," said John T. Niccollai, president of Local 464A of the U.F.C.W., which represents grocery workers in New York and New Jersey. "Their feeling is if it goes bankrupt, so be it."
When Mr. Niccollai started working at the union in the late 1970s, the A & P grocery chain had about 7,000 stores. By the time A & P had filed for its second bankruptcy, in 2015, it was down to about 125. Mr. Niccollai found jobs elsewhere for 3,500 workers who had been displaced by the bankruptcy, but 1,500 of his members were out of work. He recently added membership by organizing some of the warehouse workers at the Peapod grocery delivery
service, but it is challenging when the industry is increasingly dominated by nonunion employers like Walmart and Amazon."We are fighting hard," Mr. Niccollai added.
***
Not surprisingly, financial planners and investors have waxed ecstatic about the impact of ERISA: "ERISA had an effect on traditional pension plans and killed some of them, but overall it was good legislation," according to James van Iwaarden, consulting actuary with Minneapolis-based Van Iwaarden Associates. "When defined contribution plans were first introduced in the late '70s, they were never intended to replace defined benefit plans, but to supplement them." Today, "Defined benefit plans are dead," says Bob Pearson, CEO of Pearson Partners International in Dallas. "No company I know offers them even as a means to attract senior executives."
As a result of the demise of traditional pension plans, Wall Street financiers and their enablers have reaped billions of dollars in fees from "administering" and churning 401k plans since the passage of ERISA. The losers have been the ordinary people who work and live on Main Street. Equally indefensible has been the failure of federal oversight to ensure that traditional pension plans are adequately funded and that pensioners are paid before investors. Lastly, corporations should not be permitted to renege on their obligations to employees through the ruse of bankruptcy, the effect of which is to transfer many of the pension obligations to the Federal Pension Benefit Guaranty Corporation which is subsidized by the taxpayers of the United States. These continuing abuses show that, in our current political and economic system, the concerns of ordinary citizens ring hollow while voices of the 1% sound loudly.